Tags:
wedding table centerpiece
,
wedding table decoration
description
Wedding Table Centerpiece Teracotta Vases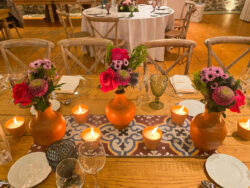 Wedding Table Centerpiece with a unique tile as a tray on whice we placed three teracotta vases with flower bouquets. Fuschia roses, blue eryngium and pink chrysanthemum were among the flowers we used. The arrangement was framed with teracotta candleholders, similar with the vases, to create an atmosphere.
Let us guide you through the world of NEDA Decorations and design together the Wedding Decoration from the Wedding Candles and Church Decoration to the Reception Decoration.
Contact us now to arrange a Skype meeting and take the first step to the wedding of your dreams in Greece.
Our stores: Thivon 503 Egaleo & Speusipoy 12 Kolonaki
Back to blog