description
Safari Pampas Grass Little Hair Wreath for a Bride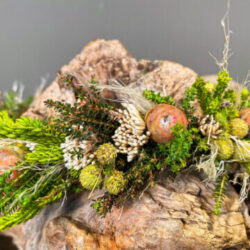 Bride Hair wreath Accessory from safari and detail from pampas grass. Combine your accessories with your Bridal Bouquet and impress.
Firstly, we can turn it into a hair coif or a bracelet. In addition, the bride's friends and the bridesmaids can wear it both on bachelor and wedding day. Above all, a perfect present for your friends which can be desiccated and remind them of this special day. Apart from that, we can make it a boutonniere for the groom and the groomsmen.
This suggestion is indicative and can be amended as you wish. In our flower shop we can make any accessory from flowers and natural materials for your special Greek orthodox wedding day for you or your guests.
Contact us now to arrange a Skype meeting and make the first step for the wedding of your dreams in Greece.
Back to blog