description
Christening Decoration White & Blue Flowers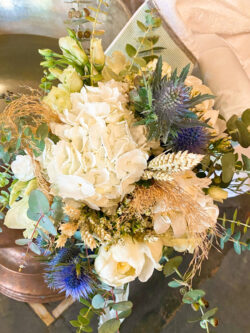 Christening Decoration with white and blue flowers combined with dried flowers. White hydrangeas, roses, peonies, lysianthus, eryngium, dried field flowers and pampas were among the flowers we used for this decoration.
Let us guide you through the world of NEDA Decorations and design together the Christening Decoration from church and Baptismal Font Decoration to Witness Pins and all the details.
Contact us now to arrange a Skype meeting.
Our stores: Thivon 503 Egaleo & Speusipoy 12 Kolonaki
Back to blog