Tags:
bridal bouquet
,
wedding bouquet
description
Bridal Bouquet Eryngium Hypericum Roses Hydrangeas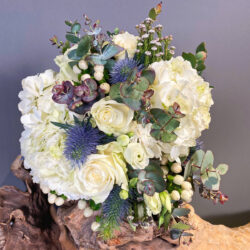 A beautiful Bridal Bouquet made from eryngium, hypericum, roses, hydrangeas, eucalyptus and safari.
The recommendation is indicative and can be modified as you wish. In the Flower by Piece category in our online shop NedaShop.gr you can find more than 200 types of flowers. You can make your own special wedding bouquet from scratch or you can modify one from the pre-existing ones.
In our Flower Shop we can create together the wedding bouquet of your choice.
Let us guide you through the world of NEDA Decorations and design together the Wedding Decoration from the Wedding Candles and Church Decoration to the Reception Decoration.
Contact us now to arrange a Skype meeting and take the first step to the wedding of your dreams in Greece.
Our stores: Thivon 503 Egaleo & Speusipoy 12 Kolonaki
Back to blog